20% off
200 Thread Count Egyptian Cotton Bed Linen Collection

Read All Reviews ( 412 )
Was From £7.00 Now From £5.60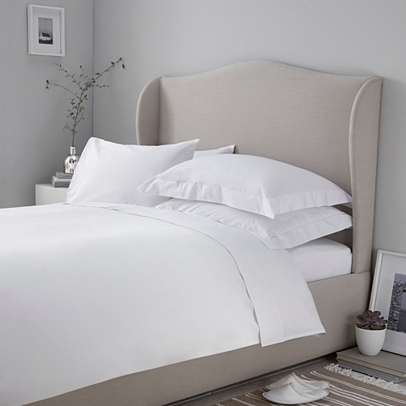 view full size image
Why we love it

Our basic white bed linen is an all-time best seller, being our usual superior quality at an excellent price. Made in Italy from crisp 200-thread-count cotton percale, this bed linen range includes duvet covers, pillow cases and valances, as well as flat, fitted and deep fitted sheets.

Button fastening
100% cotton

Size & Care

Available in:
Housewife Pillowcase
Standard W50cm x L75cm
Super King W50cm x L90cm
Cot Bed W36cm x L58cm

Oxford Pillowcase
Standard W50cm x L75cm (Plus 7cm border)
Super King W50cm x L90cm (Plus 7cm border)

Duvet Cover
Single W140cm x L200cm
Double W200cm x L200cm
King W225cm x L220cm
Super King W260cm x L220cm

Flat Sheet
Single W180cm x L275cm
Double W230cm x L275cm
King W275cm x L275cm
Super King W305cm x L275cm
Emperor W320cm x L290cm

Fitted Sheet
Cot Bed W120cm x L140cm x D6cm
Single W90cm x L190cm x D30cm
Double W140cm x L190cm x D30cm
King W150cm x L200cm x D30cm
Super King W180cm x L200cm x D30cm
Emperor W200cm x L200cm x D30cm

Deep Fitted Sheet
Single W90cm x L190cm x D34cm
Double W140cm x L190cm x D34cm
King W150cm x L200cm x D34cm
Super King W180cm x L200cm x D34cm
Emperor W200cm x L200cm x D34cm


Machine wash

Delivery

FREE STANDARD DELIVERY on UK orders over £50

Standard delivery 3-5 days £4.95
We can gift box most items
Collect+ service available: see more details
Next day delivery available, order by 7pm: see more details
International delivery available on many items
For information on all of our delivery services click here

Reviews

Here are some reviews from people who have bought from us

200 Thread Count Egyptian Cotton Bed Linen Collection

This is a repeat order . So that says it all .

I absolutely love them!!
The quality is incredible!
I also love they are made in Italy!

Beautiful bedding

One of the seams on the pillow cases is curved as it has been sewn unevenly. I only noticed this after washing and then ironing it - this is on all of the pillow cases.

Good quality , shape fine too but awful to iron

see above

Difficult to iron as stitching is poor and has caught on the fold.

Feels good to touch . Super quality

Excellent quality.

Washed and ironed nicely

Crisp, clean and bright

For the thread count and the price, I cannot fault it.

Perfect pillowcase, ideal for completing my set.

as above

An indispensable item, I was annoyingly one short. Good quality, so I expect it to last.

The bed has been transformed with the cosiness of these sheets.

just righ

J

I buy these pillowcases to embroider a design down the side and often give a matching pair as wedding presents.

great

Look great, wash and iron well.

Very good everyday pillowcases

Not soft enough against my cheek.

Just as promised

Excellent quality

It's lovely, I haven't wash it yet though so I can't give a proper review, other than is just what I wanted and looks lovely!

Absolutely no complains with regard to product quality. Feels luxurious next to the skin!

Tend to crease

The go-to place for linen. I never bother with John Lewis now.

great looking comfy

Silly smooth

Such good quality.

Very good

0

Great basic products

The quality and the feel to the touch is magnificent

I'd love it if the bath towel was a little bit bigger or if the bath sheet was a bit smaller - I find it either too big or too small.

Generous size and good quality

Seams twisted making the pillowcase impossible to iron

Good plain pillow slips

Thrilled with these ✅✅

Product was what I expected for the description

Good value, just what was required.

Look good and wash and iron well.

Good quality and fit pillows perfectly.

Love the feel of materials

feel good quality but when I washed them they can't be made with the straight grain of the weave, cos they are impossible to fold correctly. completely 'skew wiff!!' can't iron them straight either. in the end I have to iron them wonky. very disappointed and surprised at the white co!!

Fits perfectly on my super-soft pillows!!

Only 1 pillow delivered. Not 2.

I only received one pillowcase and it clearly states set of two!!

exactly what I wanted

See above

The stitching is poor in places. I discovered this failing whilst I was ironing them. I have yet to use them..

Good size

Good quality, shape fine but awful to iron.

Just what I wanted and a good price

Very good

200 thread count is dry thin so pillows or covers show through from underneath.

Excellent as always .

Quality not as good as expected. Oxford hem very uneven and I am returning.

Fit the pillow, with protector on, very well. Lovely feel to the cotton.

probably a bit over priced

Beautiful......can't say more than that! A lovely luxurious addition to my sons bed and bedroom. Feels just lovely.

Simply lovely! Crisp, beautiful,,affordable bedlinen.

Price for price excellent value

As above

As above re sheets.

Look really smart.

I already have several - these are extras

Good quality

generous sized standard pillowcases

Chose this value for money option for our guest bedroom - perfect.

Probably ask advice in future

But I didn,t realise I was getting ones with a frill. Would have preferred plain edges.

Don't iron at all well - remain creased even though heavy steam used.

Lovely!! I have 4 pillows now. I love pillowcases with the extra border.

These are great as always, will need more very soon.

As above

see comments for duvet

A delight to sleep on. Cool and comfortable.

Delighted with it

Great quality

Need to be made wider

Usual high standard from the white Company - even with this cheaper range.

I love that you are the only company that make superking size pillows! Perfect for my pillows & fabulous quality!!!

High quality as I would expect from the White company

lovely product

Excellent very good value for money

works very well with recently purchased duvet

I wish I had gone for the Santorini range, should have known at £30 cheaper for a duvet cover the quality would not be so good.

I've bought a lot of items from this company in the past. I wanted to buy the same again but chose the wrong thread count or something. I suggest labelling the items as to what they are, at the moment all labels are the same.

Good quality

Again a lovely feel, the quality is simply excellent. Well made and easy to get the duvet in and out. Superb.

Same as the pillowcases - gorgeous!

As above.

I've used White Company Egyptian cotton sheets and duvet covers for many years - and despite being, what I understand to be, their entry level sheets, they are extremely good quality and wonderful to use.
They also offer surprisingly good value for money.

This is very very sateen! Not like normal cotton at all. I think this should be made clearer in the description. Also slightly yellow in colour, not bright white.

Feels great next to your skin, washes well, minimal ironing

Very god quality- I expect the to last for years!

lovely every day product and affordable as well.

The king-size duvet is smaller than my existing king-size duvets. I discovered this failing after I had washed it. I have yet to use it.

Just that I wanted and a good price

As usual The White Compant have delivered. I went with this plain set for my spare room and it's beautifully soft and I've already had compliments.

The delivery service is way too slow, a next day service should be offered, most online companies provide the option.

Quality is fabulous as usual

Lovely feel to the duvet cover will order more !

Feels very nice. Washes well.

happy

I already have two - this is an extra

Happy customer given the number of single and king size duvet covers, pillowcases, fitted sheets have purchased over many years.

No

Lovely quality.

Crisp, silky feel that just shouts opulence.

Luxurious to sleep under - a joy! I have yet to wash the set but feel sure they will wear well.

Good value for money, well made and launders easily

Very good and soft.

Good fit and soft. Always pleased with the quality of the sheets as well. Shame their products are getting more and more expensive every year.

Am returning customer for the bedding

Good quality

as advertised

comfy

Soft & luxurious

Fab

!

As stated.

Wonderful feel

they are very very difficult to iron

Exceptional

i Love the W/C products, and as a consequence I have a linen cupboard full of their them. The only negative I would mention, there always seems to be something in my order that is either puckered in the stitching or not square not bad enough to warrant a return tho.

good quality

Exceptional quality and generously sized

Fantastic size and delicious to slip between such gorgeous sheets. They are cool and luxurious.

Satisfied with quality

See comment under duvet

Good quality as ever

Seems fine, not used or washed or ironed yet.

beautiful smooth cotton- silky to the touch.

The quality of the sheeting fabric is excellent, The last lot of sheets I bought from you was 11years ago, and they are still going strong.

Same comment

Nice and smooth; might be a little on the thin side (but they are the cheapest ones on the site). Not washed yet.

It's all excellent.

feels and looks beautiful. washes well

As stated

Good quality quite expensive to

Since I first started purchasing a couple of years ago I think the cotton on the sheets and quilt covers isn't as dense as it was. Seem more transparent to me.

Please change couriers - My Hermes never delivers to my door but leaves in the post box. All other couriers bring my parcels to my house.

Good

material a bit flimsy, creases easy

Lovely crisp and cool

As always excellent quality. Wouldn't get my bed linen anywhere else!

Excellent quality

Good feel to the fabric.

Very nice I love it

Quality is just beautiful

Great value and quality of sheets

I thought it would be softer and didn't realise it would crease so much.

A perfectly good extra sheet. Launders well.

Ordered Super-King, and have to say very well sized, plenty of drop either side of the bed. Very pleased with these new sheets, and just hope they last as long as the last ones they replace, which was over 10 years!

so soft

Perfect

very good quality

Once again the quality of the product surpasses other equivalents.

Good quality

ert

Very nice. Crisp cotton.

Good quality as always.

Superb

Appears okay but have not used on bed yet

Crumpled on washing- seems poor quality . Disappointed.

Perfect fit. Very reliable products - been using TWC happily for years.

Usual excellent quality - thank you.

Excellent quality, washed well. Have yet to iron and use.

Lovely crispy cotton.

Love it so luxurious

Very good quality.

very good

Beautiful......can't say more than that! A lovely luxurious addition to my sons bed and bedroom. Feels just lovely.

I love white company products which I believe are quality products. Great feel and look.

Top quality

Soft, good quality cotton

It's good but does not stay tucked in - a bit too lose but otherwise it is lovely

All good

Fit perfectly

Fits well. Feels good too.

I have several in different sizes, always spot on.

Absolutely love getting into bed at night with this sheet set! Deliciously good!

Replacement White Company sheets as they are always excellent quality

It was advertised as a double sheet but doesn't fit on the bed properly it's too big .

Material is amazing, very pretty

Nice quality sheet

As above.

soft and smooth

Just what I would expect from White Company. Good quality, perfect fit.

Just love white company bedding

Have bought this bedding range before. Good quality, comfortable, washes and wears well.

The cotton is very soft. Not difficult to iron after watching and tumble drying. Love these sheets.

Very good quality, deep fitting and sale price

Lovely to touch

Feels wonderful to the touch, great quality as expected. Fits over mattress protector well.

I have had this sheet before and have been very pleased with its softness. GreT to sleep on.

Comfortable, well-fitting, good quality

love the quality, as described,

Good quality and feels great.

As always, very happy with the quality, size and fit.

very good quality

I know from past experience these will be good value.

Best to sleep in the nicest sheets you can afford, this fits the bill do me.

Good quality but a little roomy on our king size mattress. I should have double checked the exact size of our brand.

It's nice, but not as soft as I expected and is very creased. I don't normally iron flat sheets but this one I had to and iron and even then it still look creased.

Great quality, lovely white colour

Love the softness and I used it for my airbnb guest......

great

bought as gift, received satisfied

It fits my deep king size mattress.

Feels soft but the smell wasn't great

Beautiful fabric and so lush to lie on. Beautiful design

Sheet very good value for money, However, due to slightly confusing search system on website, the type of sheet I wanted was 'deep fitting' and system suggested this sheet, which I purchased but did not notice was it wasn't deep fitting. Didn't realise until I had washed ready for first use, so couldn't send it back.

As above

Product is good quality and washes well

My order arrived on time. When I went to collect it they found it straight away.

Beautiful

Super soft

Love the product, would definitely buy again!

Cool feel

Good quality sheet and great value

Very comfortable and a good fit.

It is very good quality and fits perfectly.

This is a good quality product, lasts long time, feels good to sleep on, but sometimes they don't always fit absolutely to my mattress size - bit too wide and not long en Ugh

Also not actually king size as ordered and labelled but super king

lovely, and at sale price

Still good quality - but not as good as the previous purchase from the White Co

Just right for size and quality.

Perfect

I ordered super king size - it's huge. Am hoping for the perfect fit after washing.

It covers the supersize bed!

Excellent quality, would buy again

Fits mattress to perfection and slept like a log, great. Smooth and good quality.

Top quality as expected from the White Company

Good quality and feels lovely

Good quality and fit.

As above.

Perfect

Great fit will be buying more

Good quality,genorous depth sides, easily fits 9" depth mattress. Neatly packaged, my niece enjoyed colouring in the picture inside the box and created a mini theatre out of it!

very good

Nothing to change

Super King sheet is not a good fit for a Superking bed, too big and hence not what I would actually call fitted so it rucks up in the night. Colour is a sort of pinky white which makes my lovely White Company duvet cover and pillowcases that I only bought a couple of months ago look a dull off white colour. Very disappointed and frustrated that I threw the packaging away otherwise it would be going back for sure.

Excellent

love the material and style, my new favorite

a ittle thin but fine

As expected.

Good quality
Good packaging

lovely simple sheets and duvet cover. Replacing one that must have been ten years old and only now showing wear and tear!

good quality

Excited to see how this sheet is for my little ones new bed next year

Quality wonderful.

Very nice. Crisp cotton

Excellent quality and so comfortable.

Lovely sheets

Excellent quality

Great fit

Excellent quality

excellent value. one of the few companies that provide bed linen that fits my bed

Just what I wanted

Fits well over child's single bed - washes well too.

Excellent as usual

Would like extra length and width to make it easier to fit

crisp cool cotton, feels smooth, good quality sheets

Have brought before. Such a good idear as all the others are a struggle to get on. I won't be buying anything else

very comfortable washes well

As usual I am delighted with all the products I purchase at
The White Company

Good quality

I've had these before and they do the job well

Great quality

Size correct

they feel good and fit the bed exactly

Nothing to change

Same sheet bought several times

Covers my topper well

Simply the best in bedding. I have strayed in the past and tried other makes, but always come back to the white company. fantastic quality. a little bit more expensive, but well worth paying the extra

Have bought all my bedding from TWC for years. Excellent quality - Absolutely love it?

Shrunk on washing/tumble-drying, but fitted better afterwards for it.

Fast, efficient and high quality

Excellent product

Great

A good product , lasts well and feels so good when newly washed

Have bought cotton sheets and towels over the years. Always pleased with quality.

Lovely product although I ordered two I may only need one

Just what I wanted and a good price

Have found it difficult finding fitted sheets deep enough for our mattress.advised by a relative to try the white co bed linen. These are amazing quality , fit perfectly and have a beautiful feel without any wrinkling

Lovely texture

I ordered deep fitted sheets thinking our mattress was deep but unfortunately not deep enough. I will need to exchange them for the normal fitted sheet. Otherwise all good.

make it easier to iron ;)

would like this product in 100 percent LINEN

I can't say as I still haven't received my order

Perfect.

Lovely sleep!

Fits properly

High quality beautiful bedding

Very good quality cotton which stands up to frequent washing

Exactly what I was looking at. Good quality product.

Great soft crisp bedding.

beautiful sheets

Love them very comfortable and fitted

Fits well and feels soft

Fits perfectly

The service is good & the goods always as they are described. High quality.

nice to sleep on. it is slightly too big for the mattress but I prefer that than ones that ping off...

I love the fact these deep sheets really are deep and I can change my king size bed without assistance to stretch the sheet over it.
The quality is better than I expected for a 'basic' sheet.... very pleased!

They need to be ironed.

Good quality at an affordable price

Deep fitted sheets, very good fit on Tempur mattress.

Haven't used it yet so unable to say whether it is a true deep fitting

A little expensive but good quality

Beautiful fit for the deep mattress.

Quality

Just lovely and great quality

As always, the quality is excellent

Good quality and generous size sheet

Very good quality and not over packed. Was exactly what it said "on the tin".

Fits the bed perfectly.

The sheet is really comfy

Lovely quality and a much better "white" colour than many other white sheets I have bought.

Good quality product for the price.

Excellent quality, just as expected.

Only has elastic around the corners but good depth and fit

Love this, so smooth and it fits over my topper and padded mattress cover.

Love these sheets and good value

Excellent quality

Simply top quality

Good depth for my mattress

Love the softness

Washes well and is soft

Too big. Otherwise perfect. Waiting for my refund to order another. Wish I was nearer a store. I have a six foot bed and ordered the appropriate size which was about five inches too wide. This is the second time this has happened to me so may not be reordering.

this is good value for money

Lovely Italian sheets, wash and dry like a dream, superb crisp finish.

lovely and deep... but I have bought silkier, softer sheets from white company which I love... but unfortunately the ones I have don't fit my king size bed... and I do not remember which specific type it was... so it would also help if the labels on the linen could mention thread count of collection type...

Lovely quality

did not fit bed

Pure cotton is lovely

The size isn't completely compatible but good quality and fits.

I have recently tried a different brand of fitted sheet they shrank and became impossible to get on,so I ve come back to your superior quality

Seems a bit too big for our mattress which is odd because I ordered super king and it should be perfectly fitted.

Very good quality

As above

.

Perfect

Too big for my Emperor bed, next size down too small. Product returned and credit given

would like this product in 100 percent LINEN-

Great quality

Excellent high-quality cotton.

BUYING A GIFT?
Just tick the gift-box option during checkout to make it even more special.
true
false