London Sleeping Bag 2.5 Tog

Read All Reviews ( 8 )
Was From £32.00 Now From £19.20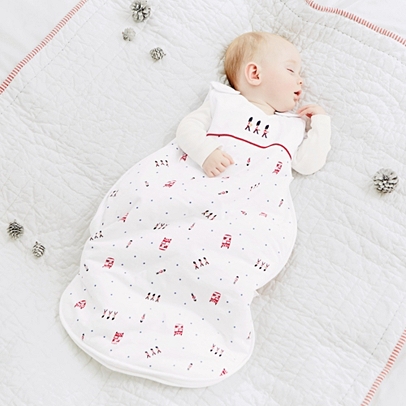 view full size image
Select Size

0-6mths

6-18mths

18-36mths
Why we love it

This wonderfully soft and cosy sleeping bag features a 2.5 tog wadded lining that's Winter appropriate. The double-ended zip makes changing baby really easy, as well as lifting baby out using the poppers on each shoulder strap. Our smallest sleeping bags, designed for babies aged 0-6 months, also feature poppers beneath the armholes to create a smaller, snug fit. The contrast red piping and our all-over London-themed print give a lovely finish to this staple bedtime favourite.

Outer& Lining: 100% cotton jersey
Wadding: 100% polyester
Available in post box red

Size & Care

Machine washable
Safety warning: keep away from fire
0-6 month size has underarm safety poppers

Not suitable for babies under 4kg (8lb 13oz)
Conforms to BS8510:2009

Don't let your baby overheat
Use 2.5 tog at a room temp of 10-20°C
Use 1 tog at a room temp of 21-23°C

Product code:
0-6 months LSTRA
6-18 months LSTRB
18-36 months LSTRC

Delivery

FREE STANDARD DELIVERY on UK orders over £50

Standard delivery 3-5 days £4.95
We can gift box most items
Collect+ service available: see more details
Next day delivery available, order by 7pm: see more details
International delivery available on many items
For information on all of our delivery services click here

Reviews

Here are some reviews from people who have bought from us

London Sleeping Bag 2.5 Tog

Great quality

The product is ok for a tiny baby as very tight around the arms, baby is only 1month and weights 8lb, defiantly not going to last until 6 months as stated.

Delivery charge - option to pick up in store as delivery was expensive

Lovely high quality material, gorgeous design.. wouldn't expect anything less from White Company

Nice soft fabric and gorgeous design

Lovely and soft.

BUYING A GIFT?
Just tick the gift-box option during checkout to make it even more special.
false
false