Memory Hollow Fibre Pillows - Medium -
White

Read All Reviews ( 13 )
Was £35.00 Now £28.00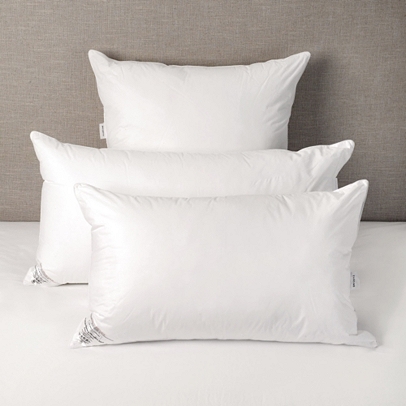 view full size image
Why we love it

No product detail available

Delivery

FREE STANDARD DELIVERY on UK orders over £50

Standard delivery 3-5 days £4.95
We can gift box most items
Collect+ service available: see more details
Next day delivery available, order by 7pm: see more details
International delivery available on many items
For information on all of our delivery services click here

Reviews

Here are some reviews from people who have bought from us

Memory Hollow Fibre Pillows - Medium

I have purchased medium soft micro fibre pillows before and found them the perfect level of softness for us. These pillows were however so dense as to be "extra firm" which was very disappointing. My husband had thrown away all the packaging and therefore I could not return them. In the end I took out my sewing machine, opened the seam and removed half the stuffing and restitched them. Great result! With four of these pillows I now have enough micro fibre for the biggest ever dog bed :-) seriously though these pillows are marked medium/soft and they arrived like bricks.

Superb product bought.

Have always purchased these pillows in the past, but this current product is exceptionally poor quality- far too soft so much so, have only used for 4 days and will have to source a replacement- extremely poor quality

Great pillows slightly on over full size

The pillows are very comfortable

Fantastic pillow. Really pleased with it.

They are very comfortable and my husband is sleeping better

They are comfortable.

You could see internal traces of internal filling on external side of the pillow.

The pillows are of great quality and have improved our sleep

I've only had it for two weeks and it has already gone flat. I am extremely disappointed, definitely not worth the money. Gutted I can't return it.

Re the website - when a product Is in the basket and you carry on shopping then return to basket to check out, often i need to add extra pieces of one of my chosen items or check another product in the same range - normally with other shops i can click on item and it brings me to the original section i bought it from - so i can then forward or back arrow to find what i want and add - here i cant do that i have to start again from scratch ie - bedroom/bedding/duvet/ then scroll through or type in to search for it again. One click would be so much speedier. Otherwise everything is great !!

BUYING A GIFT?
Just tick the gift-box option during checkout to make it even more special.
false
false