Up to 30% off
bestseller
bestseller
Savoy Bed Linen Collection - Mink
Savoy Bed Linen Collection - White
Savoy Bed Linen Collection - Grey White
Savoy Bed Linen Collection - White Silver
Savoy Bed Linen Collection - White Navy

Read All Reviews ( 187 )
Was From £25.00 Now From £20.00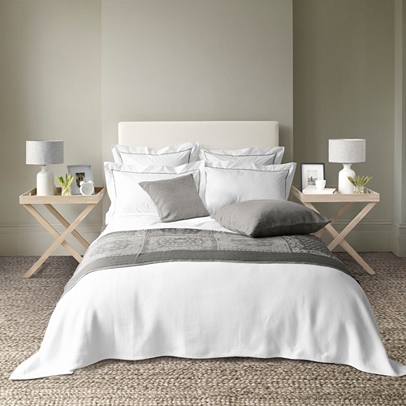 view full size image
Why we love it

Savoy is our ultra smooth 400-thread-count Egyptian cotton percale bed linen, which has an exquisitely soft feel and a beautiful drape. Made exclusively for us in Italy, this collection is finished with an immaculate trim of densely stitched cord.

Button fastening
100% Egyptian cotton

Size & Care

Available in:
Housewife Pillowcase
Standard W50cm x L75cm
Super King W50cm x L90cm

Oxford Pillowcase
Standard W50cm x L75cm (Plus 7cm border)
Large Square W65cm x L65cm (Plus 7cm border)
Super King W50cm x L90cm (Plus 7cm border)

Duvet Cover
Single W140cm x L200cm
Double W200cm x L200cm
King W225cm x L220cm
Super King W260cm x L220cm
Emperor W290cm x L235cm

Flat Sheet
Single W180cm x L275cm
Double W230cm x L275cm
King W275cm x L275cm
Super King W305cm x L275cm
Emperor W320cm x L290cm

Fitted Sheet
Single W90cm x L190cm x D30cm
Double W140cm x L190cm x D30cm
King W150cm x L200cm x D30cm
Super King W180cm x L200cm x D30cm
Emperor W200cm x L200cm x D30cm

Deep Fitted Sheet Single W90cm x L190cm x D34cm
Double W140cm x L190cm x D34cm
King W150cm x L200cm x D34cm
Super King W180cm x L200cm x D34cm
Emperor W200cm x L200cm x D34cm


Machine wash

Delivery

FREE STANDARD DELIVERY on UK orders over £50

Standard delivery 3-5 days £4.95
We can gift box most items
Collect+ service available: see more details
Next day delivery available, order by 7pm: see more details
International delivery available on many items
For information on all of our delivery services click here

Reviews

Here are some reviews from people who have bought from us

Savoy Bed Linen Collection

Love the Savoy bedlinen - smooth cotton, a treat to sleep in!

As above

My head hits the soft cotton and I'm away. Replaced older white company pillow cases. Great quality

Love this product and have many of them already

Love the Savoy range and looks really good with the navy border. Will be buying the rest of the range soon; very high quality for the price

These pillow cases aren't the cheapest, but the best.

What I write applies to,all below . beautiful packaging. I
I would give an excellent to all of these but because of previous ironing difficulties I shall just give a good for now but my story speaks of my confidence and your style .
I have not yet opened them because every day has been rain in france for the whole,of Janiuary with no sunshine .
I had this style before and the ironing was an absolute nightmare and it was summer .. so this time I shall wish and iron immediately it comes from machine and then hang on the line in the sunshine and wind! having chosen a good day.
If I find any problems with my purchased items I shall let you know

Expensive

love the feel

The quality of the fabric is excellent, especially for the price.

Same comments as above!!

Very nice material. Happy with purchase

Very comfortable

Lovely quality

Good quality

Luxury feel

I use this range in my holiday cottage so, the ability to use bleach on it somehow would be useful but it says not to

same as above

Just as I expected. Hotel quality bed linen

excellent quality

Same as duvet cover

Not sure that stitched band was a good choice for me.

lovely and soft

Looks great even after it is washed, lovely material.

please could you re-introduce more colours for the border .... i love the dark grey/ silver boarder on white... but it seems discontinued

look fantastic

Exactly what I was looking for. Silky smooth on the cheek. They do require ironing after washing to look extra crisp.

Always good

Lovely material and well made. Good size too.

Good quality and good value

Excellent quality and very good price

Quality as expected!

Am waiting for use after first wash.

I like to buy the best love the feeling of the cotton.

I love these pillow cases - beautiful quality

Lovely pillow cases but difficult to iron out creases.

Savoy bedding as always excellent.

Just what we needed

Fab

Lovely product

Always purchase the Savoy range and had them for years and years - excellent.

Great quality

it is the wrong size not sure if that is my fault can I exchange in one of your shops or return by post
look fine

Little expensive

soft and pretty

Like a hotel bedding :)

Classy and chic!!

Again I already have pillow cases and bedding in this range. They wash really well and I still have some from several years ago that are still looking as good as new.

Super soft. Very happy with purchase

What I was looking fit

Great size and design

really lovely quality, perfect fit for our pillows. Exactly what I was looking for.

Lovely smooth feel and finish. Would have preferred the white to be slightly less 'blue' to match with existing bedline but still looks fine and happy with my choice.

Lovely look!

None

Not sure stitched band was the right choice for me

Very good

Should have bought it ages ago.

nice and silky

This was a gift along with matching pillow cases and flat sheet - the recipient was delighted and said that they felt like luxury hotel bedding.

This is the third Savoy duvet I have bought however I was surprised that my previous duvet developed a large tear at the top on the underside although I had followed the washing and drying instructions to the letter

Washed and ironed well which is a good start.It feels really soft

see below same as sheet

Good quality a pleasure to sleep under

Nice and smooth but feels slightly thinner than I expected. I hope it lasts.

Very soft and luxurious feel. Happy with purchase

The feel on the skin is amazing

Lovely duvet cover, very soft fabric. A bit surprised that they have to be washed at 40 degrees , usually sheets and towels are to be washed at 60.Other than that, I love them.

Oh my god, it's like sleeping on clouds! I actually prefer the quality of these sheets compared to Ralph Lauren. Would definitely buy more.

great to lie under- excellent quality

Very good quality

Not very easy to iron

Love it!

Top quality
Loved it

beautifully soft

Quality is first class

Lovely material and well made.

The Savoy duvet bedding set was a wedding gift selected from a friend's wedding list. Delivery to the bride's home was fast and efficient.

Design and quality is good, feels nice and washes well BUT it is a nightmare to iron, first wash I was very disappointed with the quality as I couldn't get the creases out. However after using a spray starch when ironing, I can now see how lovely this product is.

Lovely quality feels amazing

They are expensive but have a great look and feel although are not the easiest to iron,
I would recommend if you like that crispy cotton feel. The only thing I would have liked is if there are more embroidered edge design choices for high TC percale cotton. It seems like all the nice embroidery is on sateen sheets which I don't like.

As expected

excellent quality, would buy again

Yet to wash and use. I have bought your linen for many years and the quality is always first class. I look forward to using these items soon.

Nothing

It's washed & ironed beautifully

Lovely soft material. We run a gite in France and believe that bedding is the most important thing to get right. Our clients often comment on the quality of the bedding. We always use savoy white (or Santolina) as it looks clean and fresh.

Beautiful quality, the best.

Love the quality feel of the material however it is so creased despite ironing A LOT after washing! So it doesn't look very luxurious and smart on the bed which I'm really disappointed about! So although the material feels amazing the fact that it creases so easily is not great.

Excellent quality - easy to wash and comfortable in use

Lovely quality. First time I've ordered from this company and I'm impressed

Love the feel hope it irons well as looks very crumpled and only a weeks sleeps!

Love the fabric, great fit, lovely silver, perfect!

This is the 3rd time I have purchased savoy covers but these last ones do not have the same silky feel? I have not washed them yet so hoping they soften in the wash.

Brilliant quality love it

it was oversized for my bed... but apart from that it's great. please could you re-introduce more colours for the border .... i love the dark grey/ silver boarder on white... but it seems discontinued

This was the worst beast that did not iron properly on my first sheet I bought from you but note how brave I am to buy two more because I liked the feel of them and my Airbnb guests like the feel, given that I had huge problems before .. I took them to a professional launderette and it was worse than me washing them and they did them twice .. and then retuning them eventually to white company who put them through their rollers and returned to me .
So I am brave to order again!!

The feel of the sheet

Quality excellent. Value for money.

Lovely and soft. Great quality.

These are beautiful. I can't wait to get back into bed!!

a great product but the price is a bit steep

see above

It's good when you get the right one!

Very good quality

Quality

Very nice

A little bit more difficult to iron

Excellent quality !! Loved the box!! Today I am flying to London and my intention is to buy pillow cushions.

It seems to be fine - fits well, is comfortable and all you'd expect from a sheet. But the proof of the pudding... it's would need to be washed a few times before I could categorically say.

Always excellent service and quality from the white co

Italian and Portuguese sewing is the best that you sell - no puckering and cut on the straight grain !

As above.

I just love the feel of the fine cotton ,so decadent and so nice to go to sleep on

When I ordered these pillowcases over the phone I asked the question is this a pair of pillow cases.? In the past they always came in pairs. I was told yes they were . My delivery was 1 pillow case of each type?? For a super king bed ??? I than had to go back on line and order another one of each. That was disappointing and should be made clear on your web site. It always used to be they were sold in pairs.

Lovely quality and although expensive well worth the money

W

Nice feel

I use the White Company for the excellent quality of its bed linen. That matters more to me than the price. In addition, the items are always beautifully presented. The box my last pillowcase came in was delightful.

good

Good

Have these grown in size? It's a bit big for my standard size bed.

deep corners

excellent

I have never paid this amount for a bed sheet before,but its a great buy,quality fantastic,definitely will be buying more in the future

Thanks

Soft, incredibly smooth and comfortable

Fitting excellent but a bit disappointed in the quality ( a bit flimsy) very little difference between 200/400 thread

I actually wanted to say they are 'OK' - not good but not poor either. I was hoping they would be softer, especially for the price.

My last sheet wore out very quickly and I think it may have been the eco friendly powder!!

See above

Really nice feel. Keeps my wife happy.

Lovely material and well made.

We have come to associate The White Company over many years with quality products.
It comes therefore as disappointing that the Savoy fitted sheet did not meet the usual standards we had expected and therefore had to return it for a refund.

no issue - colour didn't work

High quality

Exactly as for the pillowcases

This sheet does not fit my super king mattress snug, however, it is soft.

Fantastic quality and good fit as always from the White Conpany thank you

Super king seemed bigger than my usual fitted sheets.. will get a king sized next time

Feels lovely and cool

Soft & luxurious

Beautiful quality.

Generous size for deep mattress

Very expensive and poor value

Lovely smooth bed linen - I have had one set for the last five years, and it is the loveliest sleeping experience. Just had to buy more.

Far too expensive though. Must deter many customers.

Products are fine — delivery a nightmare and still waiting !!!!

Pleased with them, but quite thin for the price

Great quality.

Excellent quality and texture.

Love the softens and holds really well in my mattress

V good and generous sizing which is not easy to find for Emperor size

no issue - colour didn't work

Love the colour

Remains crisp and smart looking even after a nights sleep!

The colour for all of these didn't match my bed.

BUYING A GIFT?
Just tick the gift-box option during checkout to make it even more special.
true
false